The aim of the symposium is to initiate dialogue on the theme of 'Adventures in Chemistry and Technology: Exploring the Legacy of 19th Century Innovation in Textiles, Jewellery and Materials'. It is hoped that the symposium will draw upon a wide range of disciplines, engaging with design historians, jewellery historians, economic and industrial historians, textile, fashion and jewellery practitioners, historians of science, museum and gallery curators, trade bodies and company archivists. The objective being to establish mileage for publication-journal special issue, curated exhibition or interdisciplinary funding bids for research projects, networking and international collaboration.
Click here to Download Full Symposium Programme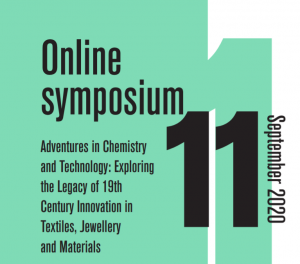 This is now a one day online event but with the intention to host a physical follow-up event at DMU, which will be free with refreshments and reasonable travel costs supported.
Organising committee: Dr Jo Horton, Ms Buddy Penfold, Professor Carolyn Hardaker, Professor Jinsong Shen and Professor Kelley Wilder.
For any queries please email: karishma.berry@dmu.ac.uk